2nd Year Child Nursing Student – University of Worcester
Even though we are only at the beginning of this programme I have already gained so much from the experience; so far I have attended the two day conference in Reading (March 5th /6th ), where we got to enjoy a variety of speakers and workshops that enhanced our understanding of how leadership is a golden thread which will be woven throughout our careers and is integrated into every role, regardless of post for  Allied Health and Nursing professionals; we got to hear how some of the key leaders have developed themselves, ,and how they have met challenges along the way. Speakers also kindly shared their knowledge and techniques of survival and reinvention.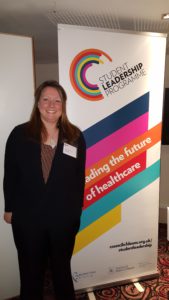 Following the initial conference we were allocated our mentors; I am lucky to have been allocated two mentors  Matthew Fowler: Advanced Nurse Practitioner at Heart of England NHSFT; and Linda Ward: Deputy Director of Nursing, Quality and Safety at NHS England. I could not have asked for more apt mentors, I am delighted.
Having already met with Matt I have developed a progress plan to enhance my understanding of roles and pathways of development for the nursing profession; and, with a date set for mid-April, I am really looking forward to meeting Linda, and I cant wait for the opportunity to ask her questions and seek advice about how, as an individual, I can move forward and enhance my skills, whilst keeping myself in-line with the needs of a rapidly changing and tirelessly demanding working environment.
Additional to the mentoring programme I, as one of the #150leaders, with Megan Cam (University of Worcester midwifery student and fellow #150leaders delegate) was fortunate to travel up to London on 26th March, for the official launch of the online E-learning platform that engages health and care staff of all levels with knowledge, understanding and a tool for assessment in relation to the Leading Change Adding Value framework.
Here we had a full briefing of the function, intention and reasons for implementing the tool and were given opportunities to log-on and set up our free user profiles there and then; Megan and I are now looking at opportunities to share this information amongst our peers in all relevant health and care cohorts as it is a framework that is applicable to all future nursing, midwifery and care staff.
Student @victoriavickyr1 tells us how she became attracted to a course in child nursing after working at @Bham_Childrens. #150Leaders #ThisCouldBeYou @WeStudentNurse @WeNurses @linward @mattfowler751 pic.twitter.com/E3mlwWIqYM

— Council of Deans (@councilofdeans) May 11, 2018
I have been delighted with the depth and breadth of information and learning I have been able to yield from this experience in such a short time, and all of it has been transferable to my current learning and application in my academic work at university;I am looking forward to applying myself, as a result of this programme and my development,  more efficiently and effectively when I go out on placement in May.
Moving forward; over the next three months I will work with my mentors to continue my personal development, seeking to understand what I need to do in order to set relevant goals and develop skills to proceed with achieving set targets.
The programme will conclude with a gathering in July of all 2018 cohorts; here we will be able to present and share our experiences with each other formally and informally. I am confident that this will be an opportunity that will highlight how beneficial the Leadership Programme has been on an individual basis and for the workforce of the future.