2nd Year Learning Disability Nursing Student – University of Wolverhampton
In November 2017 I applied for a place on the Student Leadership Programme which is a partnership between the Council of Deans of Health and the Burdett Trust for Nursing aimed at developing and promoting leadership qualities in healthcare students. The programme runs over two years and involves 150 students from all over the United Kingdom and from a multitude of healthcare professions. The application involved submitting a written piece explaining why I thought I should be offered a place – I went in to detail explaining my route in to Learning Disability Nursing, my passion for the field and my hopes for the future.
Due to the limited places and high demand for places on the programme I was not optimistic of being selected and was surprised and very proud when I received an email offering me a place. The email outlined the schedule of the programme which included a two-day residential programme that involved workshops, scenario-building activities and self-reflection exercises; a personalised three-month mentorship scheme; and the formation of an online community to support and develop our future leadership journeys (Council of Deans of Health and Burdett Trust for Nursing, 2018)
On Wednesday 07th March 2018 my leadership journey began, I was invited to attend the two-day welcome event at the Penta Hotel in Reading. I was extremely nervous before hand and unsure of what to expect. My main concerns were that I would be a little out of my depth and that the other students involved may be more intelligent, unfriendly or completely uninterested in Learning Disability Nursing. My fears were unfounded and the members of my cohort (cohort 4) were approachable, friendly, engaging, knowledgeable and interested in getting to know people and their particular fields of healthcare. Students of many healthcare fields were present including: Adult and Paediatric Nurses, Physiotherapists, Speech and Language Therapists, Occupational Therapists, Midwives, Paramedics, Mental Health Nurses, and Radiographers; I was the only student Learning Disability Nurse present.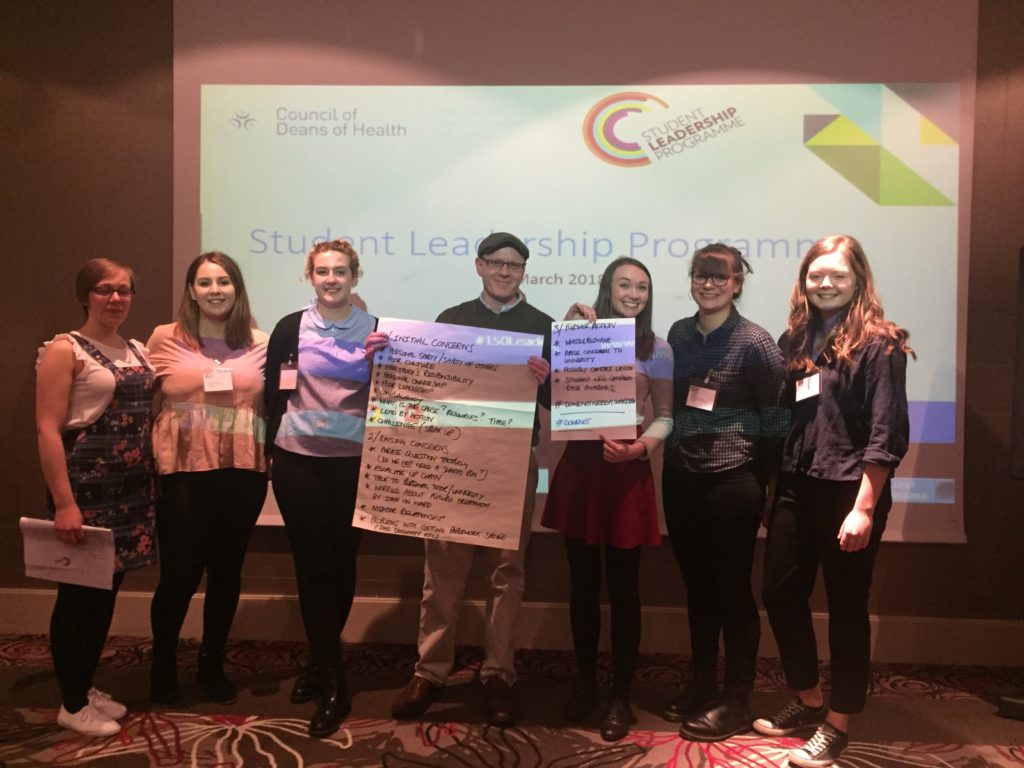 Over the two-days I feel as though I have learned so much from the workshops, guest speakers and the other members of my cohort, and feel that my confidence has increased as a result of being actively involved with a group of such inspiring and forwardly thinking individuals. Networking with such a diverse group not only allowed me to increase my understanding of different roles and the way healthcare professions link together, but it also allowed me to promote my field of Learning Disability Nursing as many of the people that I spoke to were unsure of what Learning Disability Nurses do, and where we fit in with the rest of the healthcare professions. Being able to raise the profile of Learning Disability Nursing was one of the highlights for me and it felt good that people were asking me questions and showing a genuine interest in to the field and also in the people we support. I was very happy to not only answer questions but also to steer many of the discussions that the programme raised to the perspective of people with learning disabilities. I also liked to remind students from other fields that people with learning disabilities were 'not exclusively our clients' and that people with learning disabilities accessed healthcare services and consulted various healthcare professionals just like everybody else.
Another massive highlight for me was the quality of the guest speakers and the issues and questions that they addressed. Many of the points raised really made me think about myself, my profession and my career in general. For example, Adele Nightingale a Senior Lecturer in 'healthcare leadership in practice' spoke about 'imposter syndrome' which is the feeling of being secretly inadequate, out of your depth and being underserving of any success or achievement (Lake, 2013). This certainly struck a chord with me and it was liberating to discover that this was a 'real thing' felt by other people as well as myself. I truly believe that this knowledge will help me in the future when I am feeling nervous or inadequate in both professional and personal situations and will also help me to recognise this feeling in others as my career progresses. Day-Calder (2017) states that the feeling of being an 'imposter' is perfectly natural for nursing students and usually fades as your career develops; ceasing to compare yourself to others and changing the way you think about yourself can also help to break the cycle of negativity.
Adele also spoke about 'The Power of Yet" which I found to be equally inspiring. Apparently, this is something that was broadcast on the children's show 'Sesame Street' and involves putting the word 'yet' at the end of a negative statement. For example, the statement "I am not very good at research" could be changed to "I am not very good at research yet" transforming a negative in to a much more positive statement. Davies (2017) states that the word 'yet' helps us to understand that we are on a learning curve and that it's not what you can't do but what you can't do yet'.
There were many more inspirational moments over the two days, and discussions with Carmel Lloyd (Head of Education and Learning, RCM), Naomi McVey (Head of Programmes for the Chief Allied Health Professions Officer – NHS England; NICE (National Institute for Health and Care Excellence) Fellow), Linda Hindle (Lead Allied Health Professional – Public Health England; National Engagement Lead for Police, Fire and Ambulance services) and Beryl Mansell (Senior Lecturer, Mental Health Nursing – Swansea University) were all eye-opening and powerful. It was incredibly interesting listening to the leadership journeys that these inspiring and successful people had undertaken, and it really did make me stop and think about the future and the possibilities that it may hold. Some of the top tips for a successful career were: believe in yourself; measure your impact; keep learning; take opportunities; give back and help others; develop relationships; look to the future; and develop your profile (Hindle, 2018).
I feel that this experience has been entirely positive and would go as far as saying that it has been the highlight of the three and a half years that I have been studying at University. I feel empowered and grateful that I have been given the opportunity to be involved in a programme as prestigious and inspiring as the Student Leadership Programme.
From a personal point of view, I aim to build upon my leadership qualities and to seek out opportunities that may be useful for my professional development and my future career. I have found that due to the workload of my nursing degree and also the trials and tribulations of everyday life, it has been very easy to say 'no' to opportunities that may have helped with my ongoing development. One thing that the programme has taught me, is that although the academic side of nursing is important, it is equally important to grow both personally and professionally, to make the most of the opportunities that present themselves and to strive to be the best that you can possibly be.