Last week, the team at the Council of Deans welcomed new students to the programme at a residential conference in Reading. Each cohort saw 45 students arrive from 44 different universities across the UK to the Penta Hotel for a thought-provoking two days.
Upon arrival, students were greeted by the Council's Executive Director Dr Katerina Kolyva or Head of Policy Fleur Nielsen. They set the scene for the upcoming sessions covering everything from authentic leadership to confidence to integrity. With the help with Adele Nightingale's session on emotional intelligence, students were able to make and take home their own "Bounceback Billy":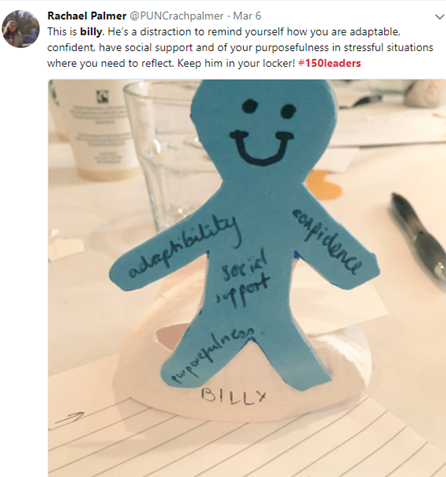 The first day was rounded off with a three-course dinner and insightful talks from clinical nurse specialist Ismalia de Sousa and Head of Programmes for the Chief Allied Health Professions Officer Naomi McVey.
Both cohorts also had the opportunity to hear from students on the programme in 2017. Felicity Allman, Layla Parsons, Abigail Spragg, Ruth Rodgers and (remotely) Leanne Patrick joined cohorts 3 and 4 and spoke about their experiences of the programme, what they've been up to since and shared their top tips.
In addition to a busy itinerary and networking with other people, students were encouraged to take to social media to share their experience of the programme using the hashtag #150Leaders. Students have now been introduced to their mentors and we look forward to seeing our #150Leaders again for our July event in London.