Coaching is a key component of the Student Leadership Programme. The coaching scheme is about leadership style and aspirations more so than careers advice. The key factors of the Student Leadership Project are co-creation, co-production and personal experience. Therefore, the main aspect of the coaching scheme is developing the students' leadership potential and recognising the best leadership traits in them.
BENEFITS OF COACHING
1) Clearer focus on goals and development needs
2) Enhanced problem-solving skills
3) Exposure to senior leaders in the health sector
4) Develop a wider network
5) Greater understanding of leadership and how to be a great leader
Each student on the programme is allocated a coach to support them on their leadership journey from March-October. The Student Leadership Programme team assesses the needs of the student, based on the information provided on their application form. We then analyse our pool of volunteer coaches to consider which coach would be the best match given the student needs and also geographic proximity.
If you'd like to sign up to be one of our coaches, please complete our online application form.
---
Our Coaches
Nichola Ashby, Royal College of Nursing
Nichola is the Head of Learning and Practice Development at the Royal College of Nursing. She is also an Associate Professor at Nottingham University. Nichola trained at Walsgrave School of Nursing in Coventry and specialised in major trauma, orthopaedics and critical/acute care nursing. She undertook further education to support her developing roles within critical care management and education gaining the ENB100/219/998, BSc, PGCHE, MSc in Health Sciences and Phd.  Nichola's PhD explored the stigmatising attitudes values and beliefs of healthcare workers towards iatrogenic infections and she has developed a longitudinal educational model.
Heather Bain, Robert Gordon University
Heather is Academic Strategic Lead: Academic Programmes with overall responsibility for all academic programmes and courses within the School of Nursing and Midwifery. Since coming into education in 2002 she has lead the implementation of the Extended Nurse Prescribing course and became the course leader of the post registration district nurse course and then led the Masters courses and CPD portfolio within the School. Heather has promoted community nursing throughout the UK,  being a member of several working groups and is one of the co-ordinators behind @weDistrictNurse on Twitter. She has recently undertaken a part time secondment with the NMC as Non -Medical Prescribing/Medicines Management Expert Advisor to support the development of the NMC prescribing Standards.
Simone Bedford, University of Sunderland
Simone Bedford is a Principal Lecturer and Team Leader for Post Graduate Nursing / CPD / CWD / WBL and Apprenticeships at the University of Sunderland.  Simone registered as an Adult Nurse in 1995, obtaining her first post in Respiratory Medicine at Papworth Hospital.  While working full time, Simone topped her Dip HE up to a BSC (Hons) Nursing and progressed into a post as a Cardiac Research Nurse.  Following the successful completion of several trials Simone left her research post to join the Royal Air Force as a Nursing Officer.  During her time in the RAF, Simone was Deputy Sister in Orthopaedic Surgery, Sister of a Medical Admissions Unit and then Senior Lecturer in the newly formed Centre for Defence Medicine.  On leaving the RAF, Simone took up the post of Senior Lecturer at Swansea University where she worked for several years before heading home to Durham.  Simone has extensive experience in pre-registration nursing and is passionate about developing the talent of others.
David Coyle, Bangor University
David is an experienced nurse academic who is committed to the delivery of quality, evidence based education for the development of mental health nurses and their practise.  He is dedicated to incorporating the voice of the consumer in shaping the design and delivery of education and services. He supports the promotion of values based nursing interventions and ethical managment in my work.  His role includes supporting undergraduate, masters and doctoral students across the School's programmes. David's research and publications are reflected in my teaching and supervision. He is particularly interested in personalisation and construction of identity as well as warrants of convention applied to mental health contexts.
Julie Cullen, University of Southampton
Julie joined the University of Southampton in 2011 following a career in the NHS as a Consultant Nurse and a variety of international health care leadership, management and educational assignments. Julie is Head of the Nursing, Midwifery and Health Department at the University of Southampton where she provides strong, creative, academic leadership, striving for excellence and distinctiveness in the education provision, drawing upon the School of Health Sciences and University world leading research strengths. Julie is a Principal Fellow of the Higher Education Academy, a Registered Teacher with the Nursing and Midwifery Council (NMC) and holds a Postgraduate Certificate in Academic Practice and a Postgraduate Diploma in Leadership Mentoring and Executive Coaching. Julie has been awarded the title of a Queens Nurse and has received two UoS Vice Chancellor's Teaching Awards for educational development in South Sudan (2012) and supporting International students (2016). In addition to being the Head of Department with 150 staff and 30 programmes of education, Julie is a module lead, a personal academic tutor and contributes to teaching, marking and student supervision on a variety of programmes of all academic levels. She is supervisor to MSc and PhD students, and a mentor to staff undertaking PGCAP and HEA Fellowship Applications.
Theo Fotis, University of Brighton
Dr Theo Fotis is Principal Lecturer at the School of Health Sciences, and Deputy Director of the Research Centre for Secure Intelligent and Usable Systems,  University of Brighton. As a nursing futurist is an active researcher in the area of Digital Health. In 2015 he was the first to use the term 'Digital Nursing', to define a future workforce of health care innovators with the special knowledge and skills to utilise digital technologies for patient benefit. In 2018 he was named one of the Top 50 Healthcare IT leaders in Europe by the Healthcare Information and Management Systems Society (HIMSS Europe), the largest health IT membership organisation in the world. Theo is a frequent visitor to Hong Kong and Saudi Arabia as a visiting lecturer and consultant respectively and he has a strong network of collaborators nationally and internationally both within his research field and in the disciplines of computing and engineering. He is currently leading a Digital Health Living Lab, where citizens, health professionals and industry are working side by side on health innovation through co-creation.
Krishna Gohil, Northamptonshire Health Foundation Trust
Krishna is an Advanced Podiatrist specialising in the high risk and diabetes lower limb care. She is an integral member of the multidisciplinary diabetic foot team at Northamptonshire Health Foundation Trust and is passionate about service improvement, leadership and clinical governance. She has a particular interest in non-medical prescribing, and is a part time Senior Lecturer in Non medical prescribing at Northampton University, and is currently completing an MSc in Management and Leadership at Salford University, to broaden her portfolio of academic learning and personal development. Krishna is a member of the medicines committee at the College of Podiatry and contributes to the development and support of clinicians in this growing and important area of practice. She has also contributed to a number of strategic documents affecting clinical management of the lower limb, delivered International education packages on the high risk foot, authored and published online diabetes foot education modules.
Robin Lansman, Body Back Up
Robin qualified at the British School of Osteopathy in 1988 (now University College of Osteopathy). He opened the first of his Body Back-Up clinics and worked in GP surgeries as well as in gyms and sports club environments over the years, as well as private practice. He was senior tutor of sports injuries at the British School of Osteopathy for 10 years, treating sports injuries at both Recreational and Competitive levels and has been on hand to give practical help at several London Marathons supporting sponsored runners. He writes regularly for the national and medical press, speaks on BBC Radio & BBC TV and lectures and teaches extensively throughout the UK and Europe. His other professional activities include past President of the Institute of Osteopathy (2016-17) and Immediate Past President (IPP) of the Institute of Osteopathy 2017-18. He is currently an expert advisor for Public Health England and a committee co-optee for the Institute of Public Health and Education. Robin loves Badminton and other racquet sports and has run The British 10k in Central London twice. He is a passionate about theatre directing, musical theatre and travel.
Daniel Marsden, Kingston and St George's, University of London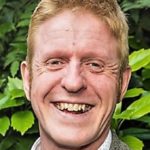 Daniel Marsden qualified as RNLD in 1998 and has practiced in NHS services since then, in children's, community, acute hospitals and as a Consultant Nurse at Hertfordshire Partnership University NHS Foundation Trust and University of Hertfordshire. Passionate about person centred care, nursing and practice development, Daniel has several funding awards and publications, including MSc research project, a participatory action research project. Daniel has founded a number of organisations to facilitate community inclusion with people with learning disabilities, including Kent Surrey Sussex Learning Disability Community of Practice, the Twitter based WeLDNurses and Anchorians Equal Teams Football Club – administered and run by and for people with learning disabilities. A committed practice developer, Daniel is an International Fellow of the Engalnd Centre for Practice Development, and has been a past member of the RCN Learning Disability Nursing Forum. Daniel is keen to develop communities that are committed to developing inclusive and participatory research intent on care and support that is person-centred.
Jayne Marshall, University of Leicester
Professor Jayne Marshall is the Foundation Professor of Midwifery at the University of Leicester and the University's Nursing and Midwifery Council's (NMC) Lead Midwife for Education. Jayne commenced her role in July 2017. She is tasked with establishing a critical mass of midwifery talent that will pioneer an innovative 4-year undergraduate pre-registration Master in Science Midwifery, with Leadership programme for aspiring leaders of the midwifery profession in partnership with University Hospitals of Leicester and Leicestershire Partnership Trust. Currently, Jayne is a member of the International Confederation of Midwives (ICM) Education Standing Committee and the ICM Research Advisory Network; the Council of Deans of Health Future Midwife Advisory Group and an Aurora Role Model and mentor for the Leadership Foundation for Higher Education. Jayne is also a Principal Fellow of the Higher Education Academy and in January 2018, was elected as the President of the Nottingham branch of the Royal College of Midwives. In June 2018, Jayne was awarded Fellowship of the Royal College of Midwives for her service to midwifery education and the midwifery profession: an honour given to just a handful of midwives each year.
James Milligan, Leeds Beckett University
James is the Head of Subject for Occupational Therapy, Physiotherapy, Sports and Exercise Therapy and Sport & Exercise Medicine studies in the School of Clinical and Applied Sciences at Leeds Beckett University. He has responsibility for providing academic leadership, the assurance of academic standards and enhancement of the quality of the courses and curriculum within the subject areas. James is a Chartered Physiotherapist. His main clinical interests lie in neuromusculoskeletal therapy having had many years of NHS experience across several NHS Trusts. James's research at Doctoral level and Masters level explored issues of professional development within the Allied Health Professions. Whilst teaching predominantly on undergraduate and postgraduate pre-registration physiotherapy courses James has also taught on pre-registration undergraduate and postgraduate education in sports [and exercise] therapy, occupational therapy, podiatry and nursing. James is a Senior Fellow of the Higher Education Academy and is a Critical Friend and Reviewer for the CPD route for Fellowships for the HEA. Having worked at both Leeds Beckett University and, previously, the University of Huddersfield James has also had External Examiner roles at St George's University of London, Teesside University and Sheffield Hallam University. He is currently one of the External Examiners for pre-registration Masters and Doctoral physiotherapy studies at Glasgow Caledonian University.
Jo Odell, Foundation of Nursing Studies
Jo qualified in 1985 with a degree in Nursing from the University of the Southbank, London. She has worked in a variety of clinical settings since then, her main clinical experience being in accident and emergency, community hospitals and care of older people. After 15 years in clinical practice Jo progressed into a variety of roles working in either a learning and development or quality team leading on practice development initiatives. Jo joined the Foundation of Nursing Studies (FoNS) in September 2011 and was the lead for the Patients First Programme for seven years, supporting 60 UK based nursing teams nationwide with their quality improvement initiatives. Jo is now leading the Inspire Improvement Fellowship programme  that is aimed at clinical leaders at the frontline, where care is experienced, to enable workplace cultures that are safe, person centred and effective. As well as facilitate the workshop days, Jo provides direct workplace coaching and support for all participants on the programmes.
Rachel Picton, London South Bank University
Rachel qualified in 1989 as a Diagnostic Radiography from Addenbrooke's School of Radiography, Cambridge. She has worked in a variety of clinical, managerial and leadership settings since then, including 3 years in West Africa setting up a radiology department and a community health scheme, Superintendent of the Oxfordshire Breast Screening Programme and Managing Director of Central London Healthcare (a GP commissioning organisation). After many years in the clinical setting, Rachel continued to work in a variety of roles covering strategic workforce development, Care Quality Commission and HEE advisor and running her own consultancy, mostly focusing on service and education redesign. From 2008-2013, Rachel owned her own high street business working with clients such as John Lewis and Mamas and Papas.  Rachel is now Deputy Dean for Allied Health, Social Care and Advanced Practice at London South Bank University where her passion is to see the new and current workforce develop and thrive. Rachel leads the Quality Improvement and Leadership module to the allied health students and provides  workshop delivery on coaching and leadership to NHS organisations.
Deborah Rowberry, Swansea University
Deborah Rowberry is a Senior Lecturer at Swansea University working in the Department of Nursing. She has a wealth of acute clinical experience prior to moving into education with over 20 years nursing experience in a variety of settings including, neurology, acute medicine, cardiac ITU and nephrology. Deborah is a Fellow of the Higher Education Academy and a recipient of Swansea University's Excellence in Learning and Teaching Award. Deborah has previous experience as a Clinical Skills Educator for postgraduate medicine and undergraduate Medical Students. Deborah's teaching interests include Simulation Based Education and inter-professional teaching. Her experience working at Mid Staffs NHS Trust gave a unique insight into the importance of leadership. Deborah was lucky enough to work on a project looking at empowering staff across all levels to develop and utilise leadership skills. This has since been career changing and fires the desire to help others find their own path.
Serena Stirling, Chelsea and Westminster Hospital NHS Foundation Trust
Serena is Director of Corporate Governance and Compliance at Chelsea and Westminster Hospital NHS Foundation Trust. Working at Board level, Serena's specialist areas include: quality turnaround, governance and assurance; quality improvement; performance and compliance; risk management; leadership; healthcare regulation; and Board governance. Serena also prepares organisations for regulatory inspections and leads their subsequent improvement journeys.