The Student Leadership Programme 2020
The programme officially starts with a two-day event full of workshops, lectures and seminars in March 2020, followed by a coaching scheme and an additional residential conference in November 2020. To attend to diverse learning needs and preferences, the course blends individual learning and group projects, as well as opportunities to listen to leaders sharing their personal and professional journeys and illustrating different styles of leadership.
Throughout the programme, each student is expected to accomplish the following: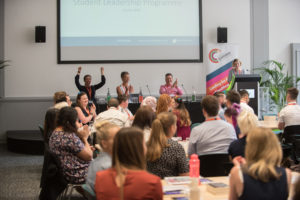 Attend the two-day welcome event on 10/11 March 2020 in Reading
Attend the networking conference on 19/20 November 2020
Attend meetings with their allocated coach through a combination of face to face and/or on-line interaction e.g. through Skype
Make a meaningful contribution to the online community established on the Programme's website and through social media
Lead on a project that has a positive impact on your university, or your university peers. e.g. disseminating learning from the programme to fellow students
Publish blogs, articles or media clips to promote the learning from the programme to future student cohorts and others
Submit a final report (500-1000 words at length) to the Council of Deans of Health reflecting on the experience of the programme
So far, 200 students from across the UK have already completed the programme. You can read about their experiences in their blogs and case studies.