Julie Bolter (University of Plymouth, Dietetics) and Sarah Bradder (Sheffield Hallam University, Radiotherapy and Oncology) attended the CAHPO conference as eager and excited newbies as part of the @WeAHPs Twitter team and representing the #150leaders. It was going to be a jam-packed day full of networking, live-tweeting, periscoping, cake cutting, badges and stickers.
How were you feeling prior to the event?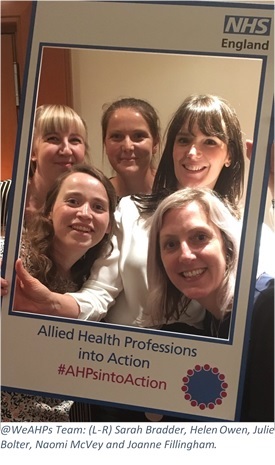 Sarah: I was just so happy to be attending! The @WeAHPs team had arranged for me to attend and I was just so grateful and excited to be part of such a wonderful event. I was really looking forward to meeting/catching up with such prominent people within the world of AHPs and hoping that I could really help the @WeAHPs team out.
Julie: I was super excited to be attending to help with @WeAHPs team and meet my #150 mentor in person. I was keen to learn more about AHPintoAction and meet Twitter friends and idols in person!
Suzanne Rastrick (Chief Allied Health Professions Officer), who is now probably better known as 'the mother of dragons', was ready and waiting to welcome the 500+ delegates. Sarah and Julie were personally acknowledged by Suzanne in her welcoming address as being attendance which they both agree was pretty amazing. Suzanne was also the first speaker – 'AHP Imagineering: Reflections from #NHS70 for the future' where the inspirational past and present AHP innovators and entrepreneurs led the way in encouraging AHPs to lead change through leadership and being digitally ready, aware and enabled.
What was the most prominent message from this address for you personally?
J: The need for AHPs to drive change that will ensure the NHS keeps up-to-date with patient requirements and demand, to allow more efficient care. AHPs will need to embrace technology as the NHS becomes digital and champion person-centred technology that advance and improve services.
S: It was so great to see two incredible advocates (Ethel Armstrong and Nick Woznitza) for the radiography profession, both such inspirations. It was also highlighted how important leadership is at every level, even as students. This really made me realise how important the Council of Deans of Health Student Leadership Programme is and how it has enabled myself, Julie and the other 148 healthcare students to develop such vital skills.
Andy Rhodes (Chief Constable, Lancashire Constabulary, National Lead for Wellbeing and Engagement, The College of Policing) then gave a moving and motivational speech about leading change – 'We asked for workers and they sent us humans', putting emphasis on caring for people who care.
What stood out most for you from this presentation?
S: In order to effectively care for the public and retain compassion, which is ever so important, we need to thrive in the work environment not just survive. So there has to be a real investment in the wellbeing of staff because it has been proven that it really does affect how services are delivered, especially when it comes to discretionary effort because where would the NHS be without this?
J: He reminded us the growth of ISIS and the 'ice-bucket challenge' have been powered by the crowd. Therefore, leaders need to realise the power of the crowd and be close to the people who are doing the work, allowing them to make networks with multi-agencies and organisations. This requires 'new power' which involves openness, peer drive, surges and participatory not held by few, closed and jealously guarded. I have seen this new power first hand in my fellow #150leaders and how we all raise one another up to achieve our best, share our victories and contacts, rather than keeping the power to ourselves.
Professor Caroline MacEwen (Chair, Academy of Royal Medical Colleges) next discussed effective change through vision, education and training that is patient-focused – 'Team Healthcare – Leading the Way'. It was highlighted, by using a case study example, the number of AHPs involved in the care of a single patient throughout their healthcare journey.
What were the take home messages from this?
J: The importance of local and regional leaders was stressed and the AHPs into Action report is an example of these leaders being showcased. For AHP leadership and teams to grow and meet future demands on the health service joint commitment across professions is required, AHPs need to work to their full potential and employers, educators and governments need to work together to train the future workforce to be work ready.
S: Joint professional work requires flexibility in everyone's attitudes and behaviours for professionals to value the unique contribution that each profession can make because the best outcomes are achieved when people work together. Advances in care are not necessarily about doing better things but about doing things better.
The final speaker of the morning was Juliet Bauer (Chief Digital Officer, NHS England) who shared how technology needs to be embraced in order to empower patients to take control of their health – 'Empowering people through digital tools and services'.
What would you identify as the main theme from this presentation?
S: That technology isn't going to replace anything but can only expand the humanity that is at the very heart of the NHS. It can create an environment where individuals are equal partners in their own healthcare journey where we move away from a 'I'm telling you what to do' approach to a more coaching type relationship which is far more person-centrered.
J: The main theme was that digital healthcare must be person focused and allow patients to be equal partners in their care. The process of moving between departments should use technology to reduce repetition of work and enable better patient care.
Lunch time was filled with great food, gathering information from the 18 stalls in the 'Market Place' and networking. Either side of the lunch break were 'breakout sessions' which delegates could choose to attend:
Commitment to the individual
Commitment to care close to home: Making care closer to home a reality
Commitment to the health and wellbeing of populations: Tools to support implementation
Commitment to care for those who care: Inspiring careers
Digital futures: Empowering the clinician and the citizen
Sustainability and transformation plans: Opportunities for AHP leadership in integrated care
Which sessions did you attend and why? What did you find most useful about them?
J: I attended 2 and 3. I chose session 2 as I am passionate about improving community care to improve patients outcomes and make a more sustainable and empowering health service. I chose session 3 because prevention is better than cure and overcoming health inequalities is a key driver of mine.
S: I attended sessions 3 and 4. I chose session 3 because I am really interested in public health awareness and feel that as a future therapeutic radiographer I am ideally placed to start conversations with service users about bettering their health and taking control. And I chose session 4 because I am actively and increasingly involved in recruitment. They were both very informative and signposted many additional tools/websites/apps etc that can be utilised for both areas.
After lunch it was the 'Keynote Address' given by Simon Stevens (Chief Executive, NHS England) whose opening statement of 'the country loves you!' was met with a huge round of applause.
What was the most important message to take from this address?
S: I think that it's so important that we see how new epidemics are replacing old ones (i.e. dementia replacing tuberculosis) and so changing needs and fragmentation between social and health care, primary and secondary care and mental and physical health are the drivers for the next part of the NHS journey and AHPs are front and centre of that change as we are in a prime position being that we are involved all the way throughout the healthcare system.
J: It was clear that all healthcare professionals will need to work differently and more collaboratively, but AHPs are part of the solution. The decompartmentalise pathways and referral systems require an overhaul to meet patient and modern-day life which draws into the importance of interprofessional working.
Sir David Nicholson (Chair, Worcestershire Acute Hospitals NHS Trust and former NHS England CEO) then put the emphasis on how the NHS is a beacon for healthcare across the globe despite the negative portrayal of it in the media, it's all a matter of 'Perspective'.
What conclusions did you draw from this speech?
J: The overall emphasis of this speech was that despite the negative portrayal of the NHS we stand tall across the world as a top universal health care system. This doesn't mean we don't need to change and improve. He encouraged us that advancements are possible and reminded us the NHS was built in a financially challenging time and has grown to the world-renowned service it is today. Sustainability is achievable and AHPs are and will be playing a key role in the process.
S: It was interesting to hear that the NHS is clearly very hard on itself, it raised the question of whether the whole of the NHS is suffering from imposter syndrome because as a collective we don't appear to see how amazing it is. As Julie said, it doesn't mean that improvements aren't necessary but we all need to see how possible it is to implement changes despite the current economic climate.
After this presentation was the #NHS70 tea party in association with the BDA (The Association of UK Dieticians). This was quite a special time for us both as we were asked by Suzanne Rastrick personally to join her in cutting the 'Carb/Sugar smart' cake as representatives of AHP #150leaders!
S: It was such an honour to be asked, I was so excited when Suzanne got in touch. It means a lot to be representing such amazing students at such a prominent event.
J: It was Sarah who instigated me sharing this moment, a true example of the 'new power'. It was a privilege to be involved and made me really feel like a valued delegate at the conference despite being a student.
The final speaker of the day was Justin Varney (Consultant in Public Health Medicine, Public Health England) who gave an engaging presentation about technological acceleration, lifestyle cohorts and life expansion – 'Spaceships, Zumba and Rewilding designers – the future of the world and the future of healthcare'. It was put forward that too often we look back and hold onto how things have always been done, but in order to change and progress we need to let go.
What would you say were the most important messages from this presentation?
J: He used advancements in technology and industry to demonstrate the digital potential for the whole health system. He also touched on how data is the new oil, highly valuable but leaks can have devastating consequences. The advice was collect with caution but share and use in meaningful ways.
S: It was picked up on that prevention is key in maintaining independence and dignity in later years and the theme of prevention was pulled out throughout the day. In order to achieve this, we need to move from patient-centred care to patient-controlled care with 24/7 access and so services need to be designed from as service user's perspective to meet future need. It no longer matters who is a doctor and who is a nurse and who is an AHP, the bottom line is that we are all healthcare professionals so we all have to work together.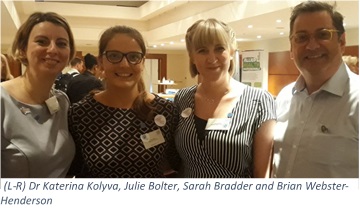 Final thoughts on the day?
S: It was so motivational! The atmosphere was just amazing, a room full of eager and friendly AHPs all geared up to make real changes for the better of services. To be a part of that in some small way was just incredible and it was amazing to get the opportunity to meet and network with inspiring AHPs. I have been encouraged to continue my leadership journey with a new found understanding of how small changes can have a big impact and I have met some amazing professionals that I know will support me in along my journey.
J: The day was inspirational, motivating, thought provoking and has increased my excitement for the future of AHPs. I will continue my leadership journey with new insight and understanding on how my behaviours and drive to improve service can be best adapted to enable the best possible patient outcomes.
We, as AHPs, are the future – "The future depends on what we do in the present" (Mahatma Gandhi) so go out there and do today.