Brian Webster-Henderson (Chair)
Pro-Vice-Chancellor (Health), University of Cumbria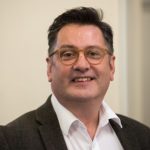 Professor Brian Webster-Henderson is Pro-Vice-Chancellor (Health) and a Professor of Nursing at the University of Cumbria, where he provides strategic leadership on health and wellbeing. Prior to this Brian has held a number of senior leadership positions across the UK including; University Dean of Learning and Teaching at Edinburgh Napier University, Head of School of Nursing & Midwifery at Robert Gordon University and Director of Education/Deputy Head of School at the University of Southampton. He holds degrees in politics, advanced practice and education.  As Chair of the Council of Deans of Health UK, he provides strategic leadership across the sector in higher education/health policy. Brian is both a mental health nurse and an adult nurse and has been a nurse for 36 years.
Iain Beith (Treasurer)
Head of School of Allied Health, Midwifery and Social Care, Kingston University and St
George's University of London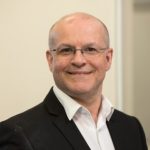 Iain Beith is a Professor in Health Education with a long track record of providing and leading high quality healthcare education and research in a range of Higher Education Institutions. In addition he sits on many committees and working groups in external organisations at local regional and national levels including HEE, NHS England, NHS Improvement and DH, often representing the Council and a range of health professions. In addition he has a number of governance roles in the statutory and charity sectors which provide a good basis for taking on the treasurer role. He is keen to help the Council navigate a path to a more independent status.
Brendan McCormack (Executive Member – Research)
Head of the Divisions of Nursing, Occupational Therapy & Arts Therapies, Queen Margaret University
Brendan's internationally recognised work in person-centred practice development and research has resulted in successful long-term collaborations in Ireland, the UK, Norway, The Netherlands, Canada, Australia, Slovenia and South Africa.  His writing and research work focuses on person-centred practice, gerontological nursing, and practice development and he serves on a number of editorial boards, policy committees, funding panels and development groups in these areas.  He has a particular focus on the use of arts and creativity in healthcare research and development.  Brendan has more than 600 published outputs, including 190 peer-reviewed publications in international journals and 10 books.  He is the 'Editor Emeritus' of the "International Journal of Older People Nursing".  Brendan is a Fellow of The European Academy of Nursing Science.  In 2014 he was made a Fellow of the Royal College of Nursing, awarded the 'International Nurse Researcher Hall of Fame' by Sigma Theta Tau International and listed in the Thomson Reuters 3000 most influential researchers globally.  He is currently in the top 100 'most cited' nurse researchers globally.  In 2015 he was recognized as an 'Inspirational Nursing Leader' by Nursing Times (UK nursing magazine) and in 2016 made a Fellow of the Royal College of Surgeons in Ireland.
Nigel Harrison (Executive Member – Education Impact)
Executive Dean, College of Health and Wellbeing, University of Central Lancashire
Professor Nigel Harrison is an adult and mental health nurse who has worked in a variety of clinical and management roles in the Midlands, London and North West of England. He is Executive Dean of the College of Health and Wellbeing at the University of Central Lancashire, providing education, research and innovation with nursing, midwifery, allied health and sports science students. Nigel is chair of the North West Council of Deans of Health and co-chair of the Health Education England NW Higher Education partnership. He has six years' experience working across the UK as an NMC reviewer and was a member of the NMC Quality Framework steering group which developed the 'light touch' approach for monitoring. Nigel is a Principal Fellow of the HEA and led a university working group implementing the HEA framework, enabling staff to obtain fellowship through a practice route. Nigel's research has focused on enhancing teaching and learning.
Alison Machin (Executive Member – Workforce)
Deputy Faculty Pro-Vice-Chancellor, Faculty of Health and Life Sciences, Northumbria University
Alison is Deputy Faculty Pro-Vice-Chancellor, Faculty of Health and Life Sciences, Northumbria University. She is also currently the Northumbria strategic lead for a high profile, international nurse education collaborative venture in Malta. Alison has a large portfolio of Doctoral research supervision and is an experienced PhD examiner. She is a Trustee of the Centre for the Advancement of Interprofessional Education (CAIPE), and Co-editor of a CAIPE book series on Collaborative Practice in health and social care. Alison joined Northumbria University in 1999 as a Senior Lecturer in adult nursing. In 2003 she was appointed Director of Interprofessional Education, with Principal Lecturer responsibility for the strategic development of interprofessional education across health and social care pre-registration programmes. Alison also played a lead role in a national DoH funded initiative to embed service improvement learning into pre-registration health curricula. Prior to joining the University, she worked for 11 years as a Registered Nurse and as a Health Visitor. Her research interests include: interprofessional education; nursing and healthcare collaborative workforce development; health visiting; and public health; using qualitative methodologies including grounded theory.
Paula Holt (Executive Member – Regulation)
Pro Vice Chancellor, Dean of College of Health and Social Care, University of Derby
As PVC Dean at Derby, Paula has responsibility for all areas of Health and Social Care at UG, PG and Doctoral level and delivery of different levels of Apprenticeships. Subject areas include Nursing (Adult and Mental Health), Nursing Associates and Assistant Practitioners, Diagnostic Radiography, Occupational Therapy, Therapeutic Arts, Counselling and Psychotherapy Programmes, Public Health, Social Work, Youth and Community and other social care programmes. The College has its own Research Centre committed to applied research and evaluation that benefits our region, with two centres of Excellence that have international impact. Paula Holt is an adult and mental health nurse whose work in the NHS included heading up drug and alcohol and mentally disordered offender services, and setting up mandated drug treatment for offenders. She served as an Army Officer for 8 years serving in SE England, Germany and Scotland heading up mental health services for Forces personnel and their families, and had operational tours of Bosnia in 1993/4 and 1997. Paula's research interests reflect her passion for creative and inclusive learning, teaching and assessment that offers all students the opportunity to maximise their success, and active commitment to widen participation in higher education. Other areas of research interest include post trauma sequelae and changing health behaviours. Paula is Governor at an NHS Trust, Non-Executive Director of a Primary Care Organisation and Director of the Soldiers Arts Academy which promotes arts for recovery for veterans. She sits on several national boards for HEE, and is deeply engaged regionally in all strategic boards and groups that commission, provide and plan health and social care.
Debra Towse (Executive Member – Governance)
Pro Vice-Chancellor (Medical Education Development), Dean of the Faculty of Health and Wellbeing, Canterbury Christ Church University
Debra is Pro Vice-Chancellor and Dean of the Faculty of Health and Wellbeing at Canterbury Christ Church University. Prior to joining Christ Church, she worked within healthcare settings across the UK and abroad. In 1996 Debra became one of the first cohort of Master's-qualified Advanced Neonatal Nurse Practitioners in the NHS, working across the nursing medical boundaries, ensuring newborn, sick and premature infants received high-quality dynamic medical and nursing care at all times. Her interest in education flourished as she led and developed the first UK-wide Career and Education Framework for Neonatal Nursing, on behalf of the Royal College of Nursing (RCN), while an active member of the RCN Paediatric and Neonatal Intensive Care forum. Her real passion remains neonatal care where she continues to lead a project in Vietnam delivering training to upskill the local workforce, which is directly contributing to reducing infant mortality. Commissioned into the QARANC (Queen Alexandra's Royal Army Nursing Corps) in 1986, Debra is also the University's Armed Forces Champion.
Ceri J. Phillips (Executive Member – Wales)
Head of the College of Human and Health Sciences, Swansea University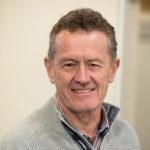 Ceri is Head of the College of Human and Health Sciences at Swansea University and Professor of Health Economics at Swansea Centre for Health Economics. He is also Chair of the Council of Deans of Health Wales. He is the University non-officer member of ABMU Health Board and a member of the ARCH Programme Board. He is currently a member of the Ministerial Taskforce on Primary Care Workforce in Wales. He sat on the Panel commissioned by the Minister of Health and Social Services to review the NHS Workforce in Wales and was a member of the Panel that undertook the Review of Health Professions Education Investment in Wales in 2015, along with the Williams review that has led to the establishment of Health Education Wales. He was formerly a member of the Bevan Commission that initiated the notion of Prudent Healthcare in relation to the health system in Wales and of the All Wales Medicines Strategy Group. He has also been a member of NICE Programme Development Groups on a range of public health issues.
Carol Curran (Executive Member – Northern Ireland)
Dean of Life and Health Sciences, Ulster University
Professor Carol Curran is Dean of the Faculty of Life and Health Sciences at Ulster University, which is comprised of the Schools of Biomedical Sciences, Environmental Sciences, Health Sciences, Nursing, Psychology, Pharmacy & Pharmaceutical Sciences and the School of Sports. Carol obtained an Honours degree in Nursing Studies in 1990, an MSc in Professional Development in 1997 and a PhD in 2005, all from the University of Ulster. Carol was previously Head of School of Nursing, Chief Executive of Ulster Educational Partnerships Ltd and Associate Dean of the Faculty of Life and Health Sciences. She was awarded an OBE for services to Nursing and Education in 2014. Carol is the current Chair of the Northern Ireland Practice and Education Council for Nurses and Midwives (NIPEC).
Fiona Coutts (Executive Member – Scotland)
Dean of School of Health Sciences, Queen Margaret University
Professor Coutts is Dean of the School of Health Sciences at Queen Margaret University, Edinburgh. Working as a clinical physiotherapist in NHS hospitals, Professor Coutts shaped her professional interest in management of long term Orthopaedic and Musculoskeletal conditions and her research interest in Human Movement Science. After entering academia in 1989 at the University of East London (UEL), Professor Coutts became programme leader for the first post graduate MSc in Orthopaedic and Neurological Physiotherapy in the UK. Progressing to Acting Head of Physiotherapy, Professor Coutts left UEL in 2004 to return to Edinburgh.  In August 2004 she returned to Queen Margaret University became Head of Physiotherapy in 2007, Acting Dean in January 2010 and Dean in September 2010.  Gaining her Professorship in 2016 in recognition of her Academic Leadership and Research has been the pinnacle of achievement in her career as a Physiotherapist, Lecturer and Academic Leader.