Our annual report is published in January each year, prior to our AGM.
Annual Report 2015
Our Annual Report 2015 will be published ahead of our AGM on 26 January.
Annual Report 2013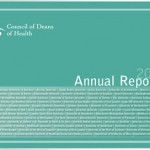 Our Annual Report 2013 sets out a high level summary of our work in 2013. Highlights include our work with members in Scotland, the Innovation: Teaching and Learning Project and responding to the Francis Inquiry.
The report also looks ahead to our priorities for 2014, including our new Strategic Plan and a pilot programme with the Florence Nightingale Foundation of leadership scholarships for aspiring deans.